Have you ever had problems keeping your tires at the correct pressure? Are you confused when your TPMS shows you have an under inflated tire? Well the folks at RightPSI have an answer for you.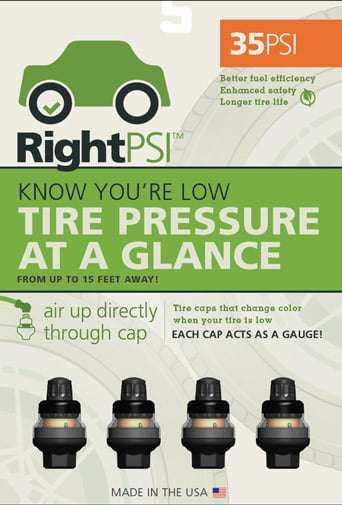 They have recently launched a Kickstarter to help fund the launch of their product: a tire cap that shows when your tires are underinflated. The cap also acts as a gauge while you are pumping so you can throw away your tire pressure gauge.
They manufacture the cap in a variety of PSI levels from as low as 8 to as high as 120. Their caps are ideal for bikes, motorcycles, cars, and trucks. At $25 for a set of 4 and $15 for a set of 2 the price is right. Measured by saved gas the product pays for itself in just 5 months!
John Milanovich, the company's founder, developed the product from an idea that his father patented. Go check out their Kickstarter!
source: kickstarter