Robocop For The Home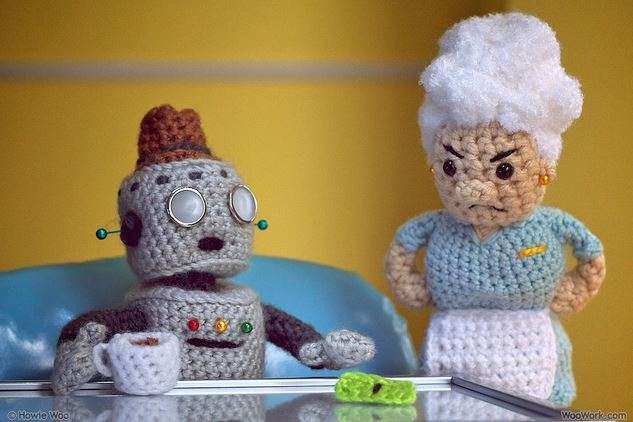 Domestic robots are becoming increasingly popular, and advanced. These days robotic vacuum cleaners can map a room, no longer bumping into furniture or getting stuck in a corner. There are robots to cook burger patties, to wash windows and now it's the turn of home security.
Security is becoming more mobile with the advent of "guard" robots; soon home owners will be able to monitor their homes from any location.
Companies specializing in robotics are aiming to break into the home security market with their small, mobile robots which can be used to patrol a home whilst the owners are away. The devices will be linked via a smartphone and will be able to transmit visuals of the residence as well as alerting owners should they espy a strange person or object in the house.
The Avatar Home & Office
Californian based Robotex made its name by producing robots for use in dangerous environments; mostly for use by SWAT and tactical teams in the US. Now they're expanding into the general consumer market with their Avatar Home & Office.
Retailing at $299 this mobile little robot is designed to operate via WiFi; enabling users to monitor their homes, or the contractors in their homes, while they are away. The Avatar comes equipped with an iOS device dock, allowing users to insert a smart phone with which they can view the home. It can navigate around object and corners and can also be purchase with an optional stair climber for multi storey homes.
At the moment its quite a pricey gadget which can only monitor an environment but, developers hope that open-source code will enable app developers to come up with new functions in future. Here's a product demonstration to get a better idea.
Robot Vacuum Cleaners
LG is toying with the idea of creating a vacuum cleaner that can also double up a kind of guard dog; able to detect intruders via sight and smell.
Kevin Cha, Senior VP of Home Appliances, told Trusted Reviews that; "Robot vacuum cleaners will cover home security as well in the future".  According to Cha the vacuum cleaner will be able to smell fire and intruders as well as communicating with the home owner through their smartphone. Apparently the time frame for these developments has already been finalized.
Gostai's Jazz Security
This little robot has a wide-angle camera with night vision and detects movements and intruders. Not only can it film video of suspicious events but, it can alert a home owner via an email or text message as well. It can also be instructed to activate at certain times of the day or night.
image source
Pippa Green is looking for security companies on Assist247 in the hopes of finding an automated home security system that's not too difficult to operate.