Bathroom Technology To Bring Your Home Into The 21st Century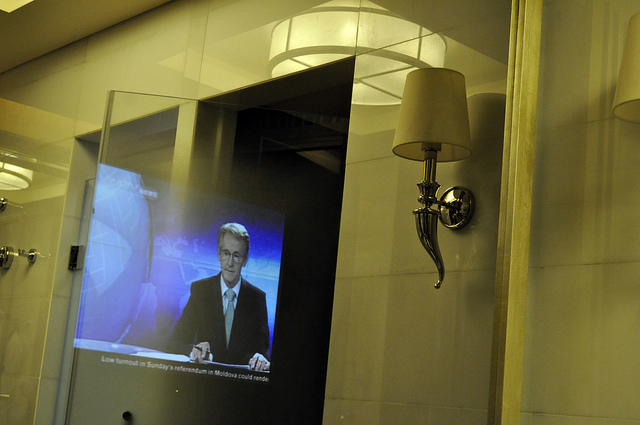 Technology has impacted on our lives in so many different ways and our homes are now filled with plenty of gadgets and gizmos that make things easier for us. One room that has been pretty much untouched up until now is the bathroom and the chances are that the most technical piece of equipment you have in yours is an electric tooth brush. That was until you read this article about the technology that could soon be gracing your bathroom.
The bathroom is one of the smallest rooms in the home and therefore it often gets left behind but it's time to show it some love and bring it into the 21st century.
Mirror Gadgets –
Before technology brains got their hands on the humble mirror it could only provide you with information about how you look in the way of a reflection. However, mirrors can now do a lot more including telling you the weather, what your friends are up to and how much you weigh.
The Cybertecture mirror can even link straight to your phone and works by using its Wi-Fi. Other mirrors available will let you watch TV and even monitor your teeth and contact your dentist with any problems.
The Smart Tap –
Gadgets usually work in two ways; either they create shortcuts to make things easier or they make something more personal to our requirements. Well this tap does the latter. By imputing data about how you like your bath i.e. what temperature you want it to be and how deep you want it you can have the perfect bath every time. The tap will recognize you through its facial awareness software and automatically draw your bath in line with your pre-set specifications.
Heated Towel Rails –
Anyone without a heated towel rail will be wondering why it is on a list of technology for the bathroom as it is not exactly a gadget but anybody with one will know exactly why the luxury it brings is outlined here. If having a warm towel ready for you when you step out of the bath is like heaven then heated towel rails are the gods of the radiator world.
Towel radiators have recently upped the ante as well as there are now rails available that have the inbuilt function to provide your bathroom with therapeutic scents. By incorporating an 'oil well' into one of the bars, the towel rail heats up and spreads a relaxing smell of your choice around the room.
Water Powered Shower Radio –
Anyone who likes to listen to music whilst they are washing their body will love this next gadget as it provides a great way to listen to the radio and use renewable energy at the same time. By placing the radio between the mains tap and your shower head it will use the hydro power to charge itself and send the latest tunes your way.
Toto Neorest 550 –
Although this may sound like the latest Japanese robot to be developed it is actually a type of toilet that they have designed. Anyone who has ever been to Japan will know they like to experiment with their public toilets but here is one you can install in the safety of your own home.
The Toto Neorest 550 will help keep your dignity intact by playing the sound of waves crashing on the beach or a gentle stream trickling down a mountain. Although it may leave guests wondering what exactly you have behind your bathroom door.
Featured images:
 

License: Creative Commons

 

image source
Chris Mayhew likes to find the latest technology to fill his home with. He is working for Heated Towel Rails 4U who stock a wide range of heated towel rails for a variety of different bathroom looks.