How Is An Oil Platform Built?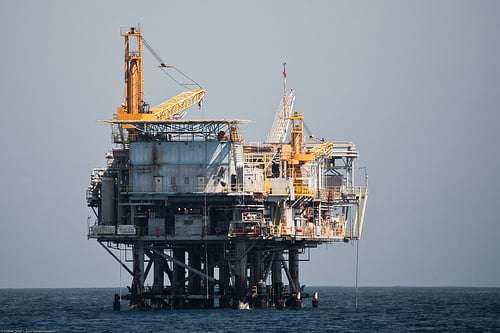 How Is An Oil Platform Built
Oil is something we heavily rely on, but many of us probably never stop to think of the processes involved in order to extract it.  Or, crucially how the oil platform structures are built in the first place.  If you've ever wondered just what goes into building one of these monumental structures, then read on to be amazed.
What is an oil platform?
Often also known as an oil rig or offshore platform, an oil platform is a structure based out at sea for allowing oil to be extracted from beneath the sea bed.  The oil is extracted by drilling wells.  Oil platforms are pretty big, sophisticated structures; the people who work on them stay there to work for periods of time, so it has facilities for eating and sleeping.
How is an oil platform built?
The building of an oil platform is a complex, expensive and time-consuming process often throwing up an array of technical challenges.  As the structure is out at sea, it needs to be able to withstand stormy oceans, winds and gales and natural disasters such as earthquakes and hurricanes.  It needs to go through a rigorous, precise design process before it can even be built, to make sure the structure is safe and secure.
It can take an awful lot of people to build an oil platform, with many of the components coming from different countries.  For example, 12,000 people worked on the Perdido oil platform in the Gulf of Mexico, necessitating different skills and engineering expertise to assemble all the pieces and parts together in the right place – not dissimilar to a jigsaw puzzle!  Not surprising really, when you think of the colossal size of such a structure.  The building of an oil platform also requires the use of sophisticated machines and equipment to correctly measure and make components, such as welding positioners, computers for designing and modelling, cranes, a seam welding machine and vehicles to transport the materials, such as barges or large boats.
Different types of oil platforms
There are different types of oil platforms, which affect how each one is built. Some platforms may be attached to the bottom of the seabed, some may float and others are made up of an artificial island.
Fixed platforms
A fixed platform is built on steel or concrete legs, which are anchored onto the bottom of the ocean.  They support a deck with area for drilling rigs, crew accommodation and production facilities.  As these platforms are fixed to the seabed, they are built for long-term use in that area.  They are made from vertical sections of tubular steel, known as steel jackets, as well as floating steel and concrete.  This type of platform can be installed in water depths of up to approximately 520m.
Spar platforms
Spar platforms are moored to the bottom of the ocean.  They consist of a cylindrical hull, a midsection or truss spar as it is known, and the cell spar, which is constructed from numerous vertical cylinders.  It has a large counterweight at the base and doesn't depend on the mooring to hold it upright.  The mooring line tensions allow the spar platform to move itself according to the wells it needs to be nearer to.
Floating platforms
Floating platforms are used in water depths of up to approximately 2,000m.  They are tethered to the bottom of the ocean in a way that aims to reduce vertical movement of the platform.  Also known as a tension-leg platform, they consist of four columns and are often used as early production platforms for bigger deepwater discoveries.
Featured images 
image source
James works for Westermans who specialise in TIG and MIG welding machines. In James' free time he likes to read and write about big engineering projects.
Photo: Mike Baird