Best Tech Products For Home Organization
With a technology like this you can begin moving your home into the age of the smart house and organize electronically in a way that older manual systems simply can't compete with.
1. Energy Efficient Dishwasher
Most modern homes have a dishwasher already, and it's not exactly as if this device represents the latest in home technology. However, as far as those that do have a dishwasher already are concerned, the appliance is completely indispensable.
By buying and installing one of these machines, especially a high capacity, high quality brand name example, you'll really kick butt in the kitchen in terms of dealing with the mess that often follows big meals. Instead of managing the disgust that washing large loads of dishes at once brings by washing a few plates at a time all day, you can simply kick back, do other stuff and let the dishes pile up neatly inside the dishwasher, setting it to do its work late at night and have it all shiny & clean for you in the morning. With a good modern dishwasher, you're looking at dozens of hours of time savings per year.
2. Large 3 Door French Refrigerator
In terms of space, storage efficiency and easy to access food arrangement, few fridges beat the 3 door French refrigerator. Designed to open up the way double shuttered French windows would, with an entirely separate box down below for frozen items; it gives you access to much more space than is the case with many other models.
However, best of all, it also offers enormous ENERGY STAR rated energy savings that are guaranteed to save you numerous kilowatts of power per year, along with the attendant cost savings that will leave more cash in your pockets. Its specialized linear compressor, which is designed to vary refrigerating power use depending on real need instead of being turned to full power or completely off as is the case with older models. Additionally, interior lighting is LED powered for an added electrical savings margin.
3. High Powered WiFi Booster
By amplifying your homes WiFi signal so that not only does it extend to every single room of your house but also even seep into the outdoors around your garden or porch, you are directly benefitting your own ability to be efficient. If you or anyone else in your home work at the computer often, there's nothing better than having a wide area signal that lets you get stuff done on the fly while also focusing on other tasks in places like the kitchen, bathroom or backyard. Feel like cooking some interesting new dishes while being guided straight from a youtube video? With a WiFi amplifier, this suddenly becomes much easier than before.
The organizational benefits also extend to deciding how to arrange your rooms; making your options for where to put home office space or computers and modems much more versatile.
4. High Capacity ENERGY STAR Rated Washer/Dryer Combo
Again, most homes already come with washers and dryers and clearly understand just how much time having both saves them. Thus, if you're missing out on the benefits of both, fix the situation quickly. By installing both a high capacity washing machine and its cousin the dryer, you can save yourself hours' worth of trips to the Laundromat and enjoy clean clothes much more frequently instead of having to run off to the nearest place that does the job for you or borrow a friends/family member's washer and dryer.
Furthermore, assuming you buy ENERGY STAR rated machines, after the initial purchase cost, your annual savings on keeping all your clothes bright and smelling fresh will definitely build up over time, in addition to the extra free time these appliances high cleaning capacity provides.
5. Transparent TV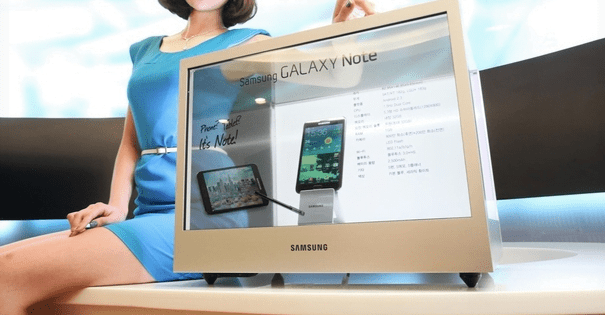 Want a TV that gives you beautiful HD picture quality across a large screen and looks awesomely futuristic when turned off? Well, if you do, get your hands on the transparent flat screen TOLED/LCD TV that gives you excellent picture quality, contrast and high definition rendering with complete solidity despite the fact that when turned off, the screen is as clear as glass.
This isn't the biggest organizational tool or time saver on our list, but as a relaxation bonus, it can't be beaten, giving you and your family a wonderful entertainment option for all the time you've saved while using the other appliances on this list.
6. Home Control/Security System
There are several Brand names on the market for this excellent security/automation technology but a particularly cheap and easy to install version is available from Vivint Technologies. Whichever you choose, your home automation and security system offers you a heavily loaded package of features despite its very easy to manage user interface.
For example, the Vivint home control/security system gives its users an alarm, electronic door lock, door & window sensors, an IP camera, lighting arrangement controls and also a programmable thermostat; all controllable from both wall panels and a remote control system and all available for a cost efficient $69 per month.
Marty Reardon is a writer for nextdoorselfstorage.com.  When he isn't too busy writing or blogging, you can find him spending his free time watching baseball and reading the paper.