The Most Technologically Advanced Car Ever Built
The first cars and engines were incredibly simple. If you look at the first vehicles built in the last century you will probably smile or even laugh. Today, car making industry has made a huge leap forward. Technologies used in automobiles are even used in aero-space industry. Today's cars vividly demonstrate achievements of lots of industries, from electronics to chemistry. Don't even try to understand how modern cars function. Complex mechanisms are operated solely by electronics. Nothing is performed manually. It so amazing to learn a bit more about most technologically advanced car. As you have guessed already, we'll look at a few most technologically advanced vehicles currently available in the market.
The Most Technologically Advanced Car Ever Built
Lexus LS 600h L
Lexus is a world leader in producing hybrid cars. In fact, if you look at LS 600h L you won't have the courage to call it a car. It looks like a time machine or a spaceship that just resembles a car. Everything is run by electronics. There is advanced parking system, brake assist, and even advanced systems to detect pedestrians. In other words, even if you want to crash Lexus, it won't let you do that. As to the interior, you will have the feeling of sitting inside a space shuttle. It is luxurious and quiet. Fuel consumption is 1 gallon per 21 miles. Besides, this is an eco-friendly car that does take care of the environment. Lexus used everything they have got to produce this model. There are no elements or aspects that would compromise quality.
Bugatti Veyron
https://youtu.be/Y9lsrV3ndRw
267 mph! Should I tell you more? I think, I should. It's the price. You will be amazed with the price of $1.5 million. Many car experts call this vehicle the best car ever made. Well, it's hard to disagree that this is the greatest car ever made. Sure, we will see better cars in future but Bugatti Veyron currently represents the tech progress. With a 16 cylinder engine and incredibly flat tires, Bugatti is fast, easy to drive and enjoy driving even at top speeds. Bugatti has become a symbol for luxury, success and intense speed. Having a Bugatti is like saying everyone "Hey, I am rich and beautiful".
Cadillac One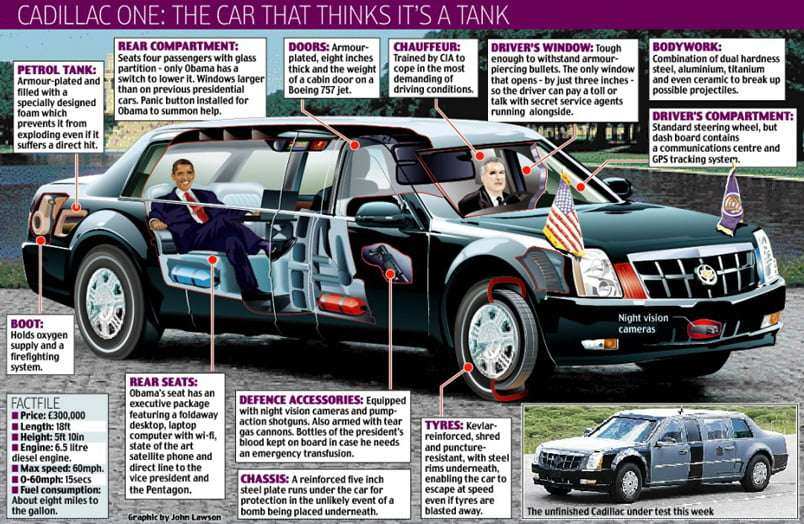 If you are the president of the US or a big gangster fearing to be shot anytime, Cadillac One is the right car for you. Some folks calls this vehicle the most advanced in the world. The car is 100% bullet proof – 5 inch armor and of course bullet proof glass. It is completely sound proof which means you cannot hear anything that happens outside the car. It has its own oxygen supply system. One door weighs as much as the cabin door in Boeing 747. Do you know to find out what's in the trunk? It's president's blood bank! Odds are that someone will attempt to kill the president, so having blood supplies might save him life. In fact, we do not know much about all the security and military systems installed in Cadillac One. It's a car managed by the Secret Service after all.
Aleksey is crazy about cars and car tuning, sign writing in particular. He loves sharing his tuning experience and tips to choose nice companies like provinyl.com.au.
image source