Streaming video is a widely utilized communication tool for business.  Most employees already have the skillsets necessary to view video, and streaming video has become more acceptable in general across the United States.  In fact, recent research suggests that by the end of June 2014, 180 million internet users in the U.S. will have watched approximately 33 billion videos.
Businesses can take advantage of streaming video and use it to improve internal systems, optimize allocation of in-house resources, and drive revenue.  Listed below are four ways that businesses can use video to improve systems and overcome common challenges.
1. Utilize Corporate Communication With Enterprise Software
Currently, about 28% of businesses utilize enterprise software to streamline communication efforts without disrupting worker efficiency.  A number of popular systems can enable video integration that relays video updates through a content management system.  It is also widely speculated that videos posted on employee homepages are more difficult to overlook, misinterpret, or ignore than anchor text.
2. Initial Training and Ongoing Employee Development Initiatives
The implementation of video into existing adult learning materials can help better convey new information with less room for interpretation.  Targeted training videos can help employees progress throughout their careers by learning new skillsets without having to experience a substantial time lag between when a new skillset should be acquired and when in-person training sessions are offered.
Video can also be added to more traditional learning and training materials, such as PowerPoint presentations and PDFs.  A combination of learning tools can help employees acquire new skillsets in a way that addresses different learning styles. This approach to employee education and development can improve information retention as well as overall engagement.
3. Improved Local and Global Customer Relationship Management (CRM)
Streaming video can be a smart addition to CRM strategy as it is an easy way to communicate with engaged customers.  Video is also a medium that can help explain highly niche or technical information in a way that is easy for the end user to understand.  The right on-demand video platform will also allow customers to view video from mobile devices.  This approach to consumer education can help customers learn more about a specific product or service while optimizing time sales teams spend directly with highly qualified leads.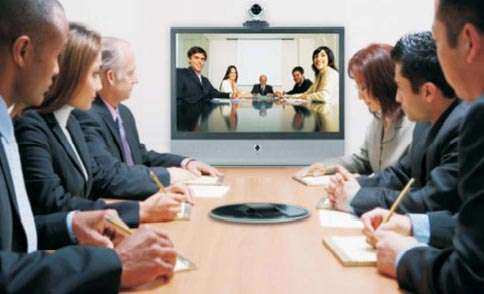 4. Encourage Peer-to-Peer Communication and Knowledge Management
Employees can frequently learn new skillsets or improve existing skillsets via peer-to-peer communication.  Employees can create a short video in order to minimize breakdowns in communication, which are frequently experienced when using email.  Video can also prompt discussions as well as encourage close employee collaboration.
Takeaway Points: Video Offers Continuing Improvement For Business Practices
Video can offer a substantial improvement in common business practices when implemented the right way and on the right platform.  It is important for different business owners to recognize the widespread use of streaming video in the United States, and apply new technology to routine business initiatives.  Below are a few key points:
Video can improve communication between executives and employees on a universal level.
Video can improve retention and engagement when utilized in internal employee development initiatives.
Video can improve traditional CRM.
Video can improve communication and encourage collaboration between employees.
In short, video is often a superior form of communication that can be a highly useful business tool.
[accordion title="image source" id="id-here"]
image soruce:
https://grena.ge/uploads/video1.jpg
[/accordion]